TECHNOLOGY

Automatic production system design / manufacturing
Automatic assembly
TAKANOGIKEN designs and produces automated machinery for mass production in-house.
Using our knowhow developed from our integrated production system for precision electronic parts and our mechatronics technology, we independently develop high-efficiency automated production lines. We can realize the ideal mass-production line for OEM products and electrical parts for automobiles.
Also, our development system allows for flexible cooperation among die, machining, automated machinery, and inspection departments, and it allows us to demonstrate our strengths through quality manufacturing. We control quality consistently across all processes.
TAKANOGIKEN's automated production system
Independently-developed, high-efficiency automated production system.
Design

We design the most rational construction method from the product planning phase.
Because we design and produce automated machinery in-house, we can develop our own high-efficiency, automated production lines. Based on your specifications, we can develop a mass-production system that maximizes the benefits its crafting methods and processes.
Our expert engineers can participate in your project from the product planning stage. Because our engineers are knowledgeable on various manufacturing fields and manufacturing technology, decisions and developments are quick, and they can design automated machinery that meets your needs.
Production

Completely in-house production of automated production system.

Processes are handled in-house, including the production of parts for automated machinery, assembly, and the establishment of control systems. Our engineers from a wide range of fields that specialize in machine, electrical, control, and imaging systems team-up to participate in the production process.
By handling things in-house, we reduce the cost of producing automated machinery and the time required to establish a line.
Prototypes
and trialsAll departments work together to create high accuracy and non-defective rate system.
Development and adjustments are performed with all processes, from dies through the production of automated machinery, flexibly linked in order to establish high-precision automated production systems with a high-rate of defect-free products.
Switching to mass production
We establish a complete production line to fulfill your needs.
We will establish a dedicated, automated-production line for you in our factory. You can outsource all processes to us up through product delivery.
We can automate difficult mass-production lines that include the high-speed production of micro parts, complex assembly processes such as laser spot welding, automated camera-based dimensional measurements or appearance inspections of all products, etc.
We can propose labor savings and cost reductions in medium-/large-scale mass production for OEM electronic part production and electrical parts for automobiles.
We achieve stable production through thorough preventive maintenance.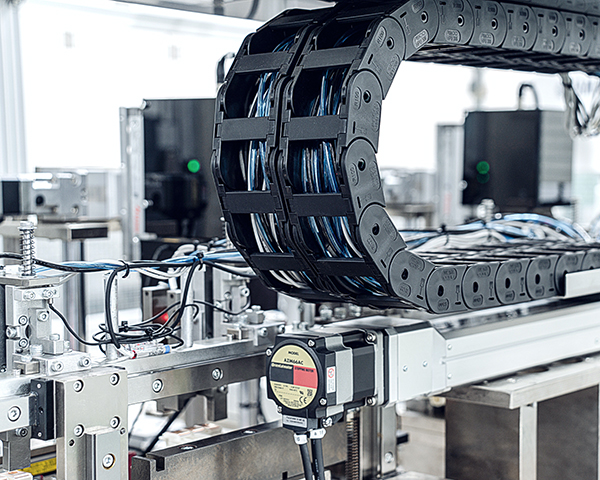 Because we develop automated machinery in-house, our PM management is thorough. We endeavor to prevent problems in order to provide stable production and high-quality OEM products.