TECHNOLOGY

Die & mold development and manufacturing
Dies affect product quality and are the starting point of manufacturing. We have the knowledge to perform combined micro-machining according to your needs and to achieve the most productive crafting methods, and this is incorporated into each die.
TAKANOGIKEN's precision dies are formed from parts with over 600 points, and fine adjustments are made repeatedly with μm precision to produce the die.
The life of the die depends on the die design, the machining of parts, assembly, adjustments, and mass-production processes.
TAKANOGIKEN's high-precision dies
Knowhow developed through experience from over 5,000 models.
We have over a half-century of history producing dies and over 5,000 different models. Our experience and knowledge of manufacturing electronic parts gained from a wide variety of fields is used in our die designs.
We demonstrate our strengths through complex dies with many die stages.
We can also design die layouts to simplify mass production. You can increase productivity with our dies.
Precision stamping dies (progressive dies)
Depending on the quality and plate thickness of the material and its machining characteristics, our dies can achieve micro-precision stamping and continuous combined machining with a tolerance of ±0.005 mm.
We can assemble parts with more than 600 points and make adjustments to the core parts with μm precision.
Because the structure allows for easy maintenance, production quality is easier to maintain, and changes and modifications to specifications are relatively easy.
Dies for insert molding
Metal parts such as connectors are inserted, and injection molding is performed to manufacture composite parts with both metal and resin.
Support for multiple cavities. We have extensive experience with improving productivity and reducing costs.
Everything is handled in-house, and production and adjustments are made with micron precision.
Dies are produced entirely in-house. We use various techniques and modern equipment to produce precision molded parts.
After the die is assembled, it is finished by expert technicians who make prototypes and run trials while making repeated adjustments with μm precision. Because our internal system is integrated, repeated adjustments can be made in order to fulfill the quality requirements of the final product.
Technology to create precision dies
Profile grinder

Electrical discharge drilling

Milling center

Coordinate measuring machine

Finishing
Delivery times are as short as 1 month through cooperation with our Thailand factories.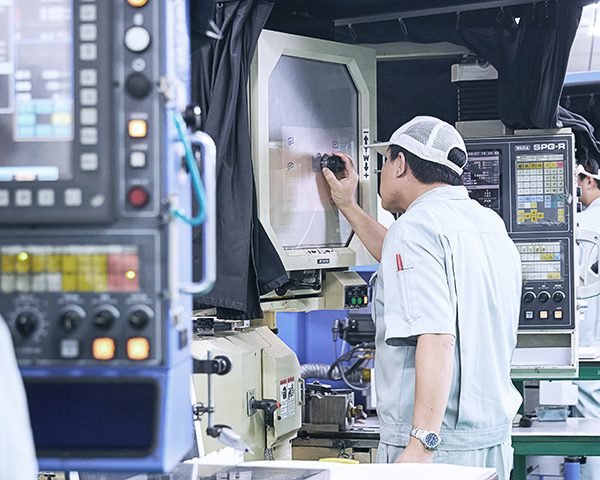 Molded products are produced through cooperation with the Thailand factories. This makes delivery times as short as 1 month possible. This also helps reduce the time to establish a production line.