TECHNOLOGY

High-precision press stamping process
TAKANOGIKEN was founded as a die-stamping company, and we have continued to inherit, research, and develop technology to more quickly meet the needs for miniaturization, sophistication, and precision. The precision dies that we produce support difficult micro-machining and difficult materials. Our technical capabilities are backed-up by our history, and we have successfully increased productivity, such as through die layout designs that simplify post-processes and high-speed continuous machining, and we have achieved a high rate of defect-free products. As needed, all products can undergo imaging inspections on the line to assure the required quality.
TAKANOGIKEN's precision stamping
High-precision machining of difficult materials, complex geometry, and narrow pitches.
Complex and precise dies are produced in-house and adjusted with μm precision.
Our precision stamping technology supports tolerances as precise as ±0.005 mm and is highly trusted.
Precision stamping of difficult SUS materials such as 0.03 mm copper alloy plates and 2 mm iron plates is also possible.
You can rely on us for difficult machining such as for complex parts with many die stages, products with a narrow pitch, drawing, combined machining, micro-rounding, etc.
All products can be inspected through imaging with our internally-produced inspection machine that uses a camera.
Micro-rounding

SUS precision stamping
Productivity improvements through continuous combined machining and high-speed machining.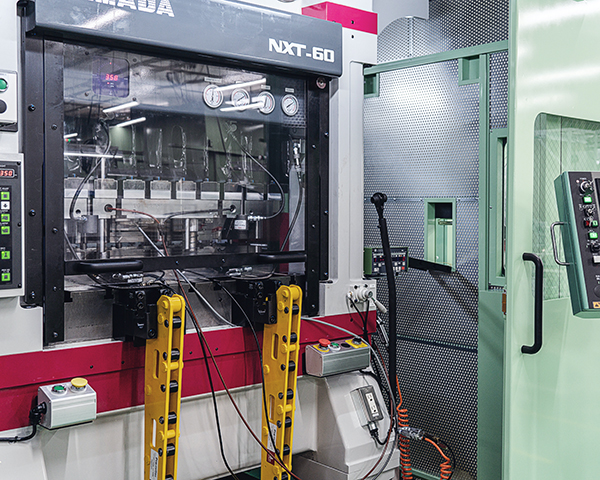 We have established a high-efficiency production line that uses a high-precision, high-speed press and an original die press.
We can maintain high precision even during high-speed machining at over 600 SPMs (shots per minute).
Die layouts that take post-processes into consideration improve the efficiency of the overall process.
We demonstrate our strengths through continuous combined machining of hoop materials. We aim for labor savings through automated continuous winding machines.
Support for a broad range of sizes, from 3 tons to 200 tons.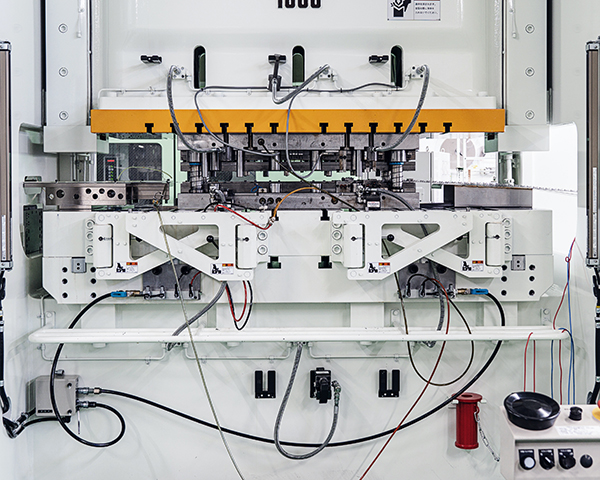 We have presses in the range of 3 tons to 200 tons. We can handle a wide range of sizes and processes, from the micro-machining of small parts through the continuous stamping of large, postcard-sized products.